WELCOME TO STANDIGI

20+ years experience within development of digital electronics.
Specializing in ASIC, FPGA, embedded software and board design.

8 year experience as freelance consultant working with

- Design of systems with analog and digital content
- Project planning and follow-up
- Documentation of design and test
- Coding of digital design in VHDL or Verilog
- Simulation in Modelsim supported by tcl scripts
- Review of board design/layout – implementing digital designs to board-level
- Processor programming in C. Extern or internal (FPGA/ASIC)
- Realtime programming with or without RTOS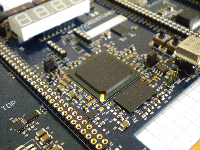 Do your next project use a FPGA, processor or both?
Do you have an existing FPGA which doesn't perform as planned?
Do you need support for a new or an existing project, then continue your reading.